➡  ईमानदारी कभी न कभी बड़ा लाभ दे देती है मगर
छोटी सी बेईमानी भी बड़ा से बड़ा भूगतान करवा ही देती है ।
---
➡  Imandari kabhi na kabhee bada laabh de detee hai magar
Chhotee see baimani bhee bada se bada bhugatan karava hee detee hai.
---
➡  हम रात भर सोचते नही सो जाते है  सुंदर सपनो मे खो जाते है
समय खोने का तो पता नही चलता मगर सुबह जरूर जल्दी उठ जाते है – शुभ रात्री…
---
➡  Ham raat bhar sochate nahee so jaate hai sundar sapano me kho jaate hai
Samay khone ka to pata nahee chalata magar subah jaroor jaldee uth jaate hai .
---
➡  कही कोई अपनो से न रूठे जिंदगी मे किसी अपनो से  साथ कभी ना छुटे
रिश्ता कोई भी होगा निभाउंगा ऐसे की कभी उनसे रिश्ता ना टूटे ।
---
➡  Kahee koee apano se na roothe jindagee me kisee apano se  saath kabhee na chhute
Rishta koee bhee hoga nibhaunga aise kee kabhee unase rishta na toote .
---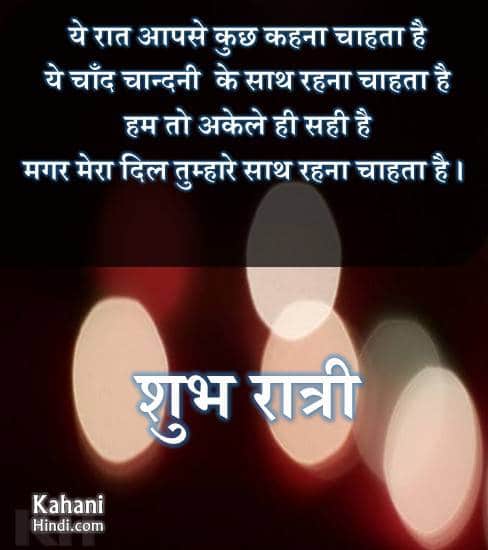 ➡  ये रात आपसे कुछ कहना चाहता है ये चाँद चान्दनी  के साथ रहना चाहता है
हम तो अकेले ही सही है मगर मेरा दिल तुम्हारे साथ रहना चाहता है ।
---
➡  Ye raat aapase kuchh kahana chaahata hai ye chaand chaandanee  ke saath rahana chaahata hai
Ham to akele hee sahee hai magar mera dil tumhaare saath rahana chaahata hai .
Read This:- Good Night Shayari with images
---
➡  सब लोग एक जैसे नही होते है कोई पास होकर भी हमारे नही होते है
लेकिन कुछ पास ना होकर भी हमारे होते है ।
---
➡  Sab log ek jaise nahee hote hai koee paas hokar bhee hamaare nahee hote hai
Lekin kuchh paas na hokar bhee hamaare hote hai .
---