Thoughts in Hindi and English:- If you finding for Motivational Thoughts in Hindi and English, Thoughts in Hindi and English, Inspirational and Motivational Quotes for Students and Inspirational thoughts Hindi. This is the right place for motivational thoughts in Hindi with pictures, Best motivational thoughts in Hindi and inspirational thoughts for the day. We also share Good Morning Quotes in Hindi, Good Morning Shayari Images, Good Night Shayari with image.

---
Motivational and Inspirational Thoughts in Hindi and English
दोस्तों यहाँ पर मैंने आपके लिए बहुत सारे Motivational Thoughts लाया हु जिससे आप Motivate हो सकोगे | आप सारे Thoughts को अच्छे से पढ़ना | मुझे विश्वास है की आपको पसंद आएगा | अगर आपके मन में कोई सवाल है तो मुझे Comment करके पूछ सकते है |
दोस्तों विचार एक ऐसा शब्द है जो व्यक्ति को उसके कार्य को करने के पहले सोचना पड़ता है | व्यक्ति को हर कार्य को करने के पहले एक बार सोचना ही पड़ता है जैसे उस कार्य से मुझे क्या लाभ होगा, आगे चलकर मेरा करियर बनेगा या नहीं इस प्रकार के सोच के बाद वह काम को करना पसंद करता है | लेकिन कई लीग ऐसे होते है जो कार्य के बारे सोचते ही नहीं है अगर कार्य ज्यादा बड़ा हुआ तो वो उसे नाकाम समझकर छोड़ देंगे | लेकिन आगे चल कर उन्हें पछताना पड़ता है |
---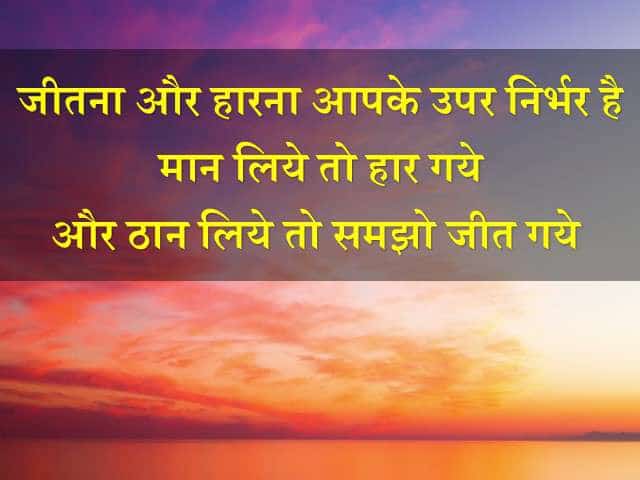 जीतना और हारना आपके उपर निर्भर है मान लिये तो हार गये और ठान लिये तो समझो जीत गये
Win and to lose depends on you, If you agree, you lose and If you are determined then you win
---
कभी भीड़ को मत देखो की वो कहा जा रही है भविष्य तुम्हारा है और उसे तुम्हे ही बनाना पड़ेगा । इसलिये दिशा खुद ही तय करो ।
Never look at the crowd. that it is being said that the future is yours and you have to make it yourself.
Therefore, decide the direction yourself.
---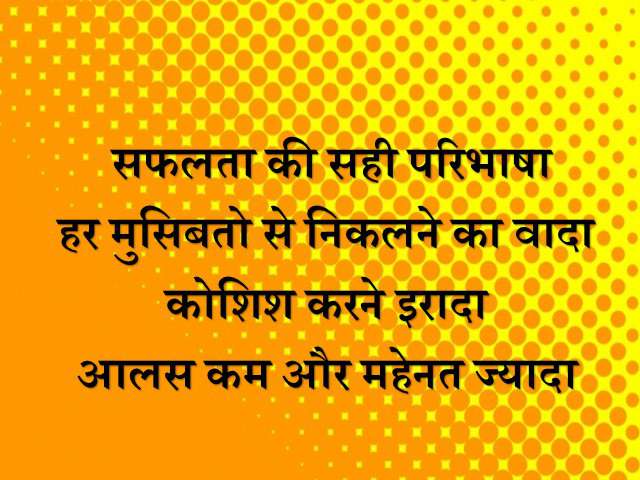 सफलता की सही परिभाषा हर मुसिबतो से निकलने का वादा  कोशिश करने इरादा आलस कम और महेनत ज्यादा
True definition of success, Promise to get rid of every difficulty, Intending to try and last Lazy less and more labor.
---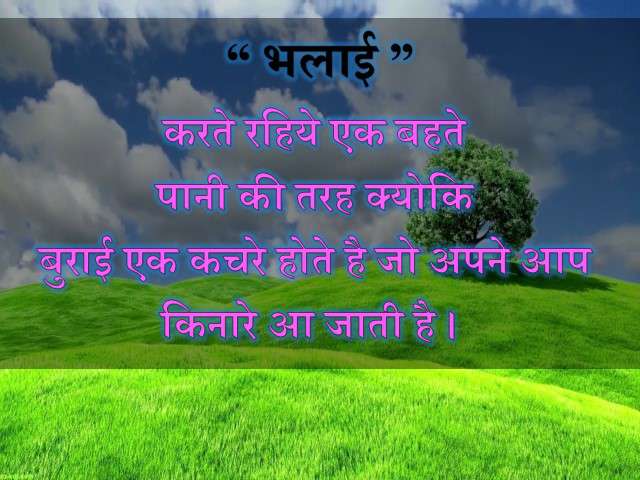 " भलाई "
करते रहिये एक बहते पानी की तरह क्योकि
बुराई एक कचरे होते है जो अपने आप किनारे आ जाती है ।
"Goodness"
Do it like running water because evil is trash that automatically comes out of the water.
---
Inspirational Thoughts in Hindi with Images Download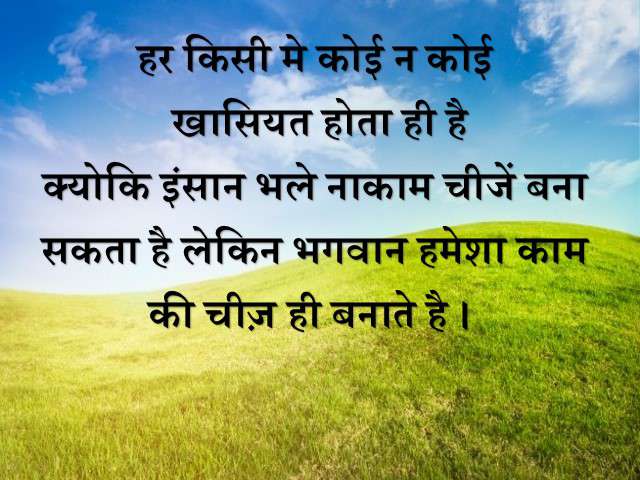 हर किसी मे कोई न कोई खासियत होता ही है
क्योकि इंसान भले नाकाम चीजें बना सकता है लेकिन भगवान हमेशा काम की चीज़ ही बनाते है ।
Everyone has some specialty. Because humans can make failed things, but God always makes things useful.
---
" लक्ष्य "
इस प्रकार का होना चाहियें की उसे पुरा करने के लिये नींद भी ना आये ।
"AIM"
It should be such that one does not even sleep to complete it.
---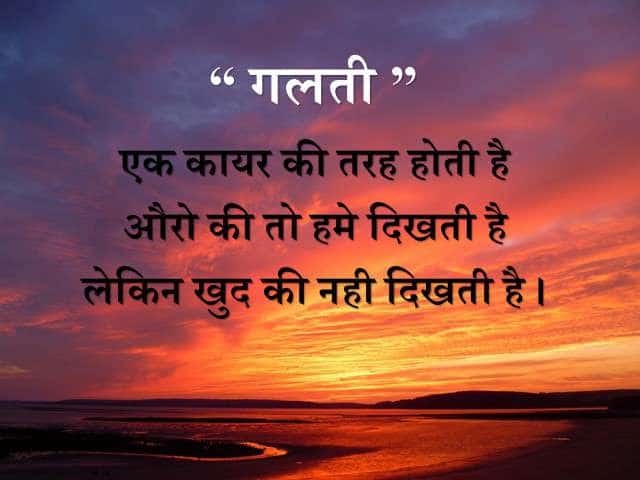 " गलती "
एक कायर की तरह होती है औरो की तो हमे दिखती है लेकिन खुद की नही दिखती है ।
" Mistake "
It is like a coward, and it looks at others but does not see herself.