Good Morning Quotes in Hindi:- If you searching for Good Morning Quotes Images, Beautiful Life and Love Quotes, Good Morning Quotes in Hindi with images. This is the right place for Good Morning Quotes for Life in Hindi. When we wake up in the morning, the day is a new day for us. That is, it is time to start new, just we should be a thick weight or some more thick weight word that will force us to do something new and give us the courage to move forward.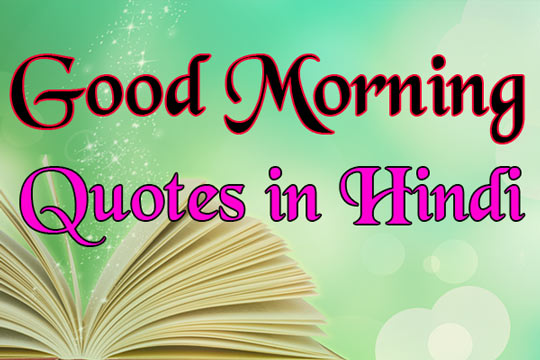 Beautiful Life & Love Quote in Hindi
दोस्तो हम जब सुबह – सुबह उठते है तब हमे Good Morning Quotes और नये दिन के लिये नये विचार की जरूरत होती है । सुबह उठते ही अगर हमे कुछ नया Good Morning Quotes सुनने को मिलता है तो हमारा मन खुश हो जाता है और कुछ नया अनुभव होता है ।
हम सभी ये भी चाहते है़ कि सुबह होते ही हमारा खुब अच्छा दिन बिते और अच्छे से सारे काम भी हओ जाये । जब हमारा सुबह अच्छा होता है तो हमारे दिन की शुरुआत अच्छे से होती है अगर हमारा दिन की शुरुआत अच्छे से नही होती है तो पूरा दिन ही परेशानी युक्त और बोझ पूर्ण लगता है । अपने दिन की शुरुआत करने के लिये सबका अपना अलग – अलग तरिका होता है । जिसका उपयोग करके सब अपना दिन को अच्छा करते है ।
---
Good Morning SMS and Messages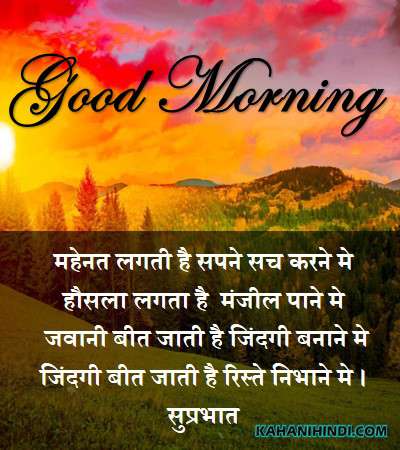 महेनत लगती है सपने सच करने मे हौसला लगता है  मंजील पाने मे
 जवानी बीत जाती है जिंदगी बनाने मे जिंदगी बीत जाती है रिस्ते निभाने मे  -सुप्रभात
 ➡ Mahenat lagatee hai sapane sach karane me hausala lagata hai  manjeel paane me
Javaanee beet jaatee hai jindagee banaane me jindagee beet jaatee hai riste nibhaane me  -suprabhat
---
पता नही क्या मासुमियत है तेरे चहेरे मे तुझे सामने से ज्यादा छुपकर
देखने मे अच्छा लगता है ।   -सुप्रभात
➡ Pta nahee kya maasumiyat hai tere chahere me tujhe saamane se jyaada chhupakar
Dekhane me achchha lagata hai. – suprabhat
Read This:- Good Morning Quotation in Hindi
---
सुबह- सुबह नये दिन की शुरुआत होती है किसी अपनो की बात खास होती है
अपनो को दिल से याद करोगे तो खुशिया आपके साथ होती है । -सुप्रभात
➡ Subah- subah naye din kee shuruaat hotee hai kisee apano kee baat khaas hotee hai
Apano ko dil se yaad karoge to khushiya aapake saath hotee hai.
---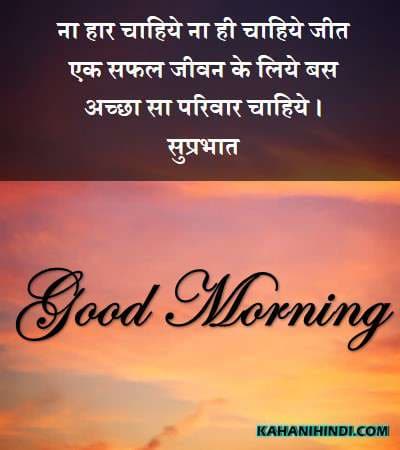 ना हार चाहिये ना ही चाहिये जीत एक सफल जीवन के लिये बस
अच्छा सा परिवार चाहिये । सुप्रभात
➡ Na haar chaahiye na hee chaahiye jeet ek saphal jeevan ke liye bas
Achchha sa parivaar chaahiye . suprabhat
---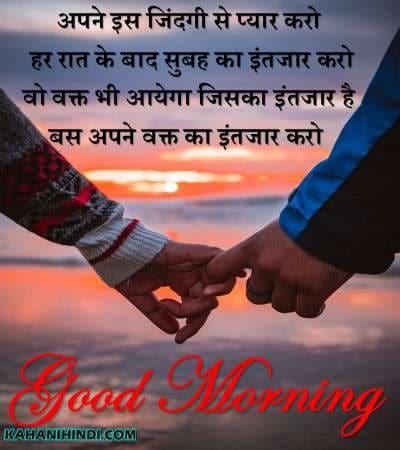 अपने इस जिंदगी से प्यार करो हर रात के बाद सुबह का इंतजार करो
वो वक्त भी आयेगा जिसका इंतजार है बस अपने वक्त का इंतजार करो -सुप्रभात
➡ Apane is jindagee se pyaar karo har raat ke baad subah ka intajaar karo
Vo vakt bhee aayega jisaka intajaar hai bas apane vakt ka intajaar karo -suprabhat